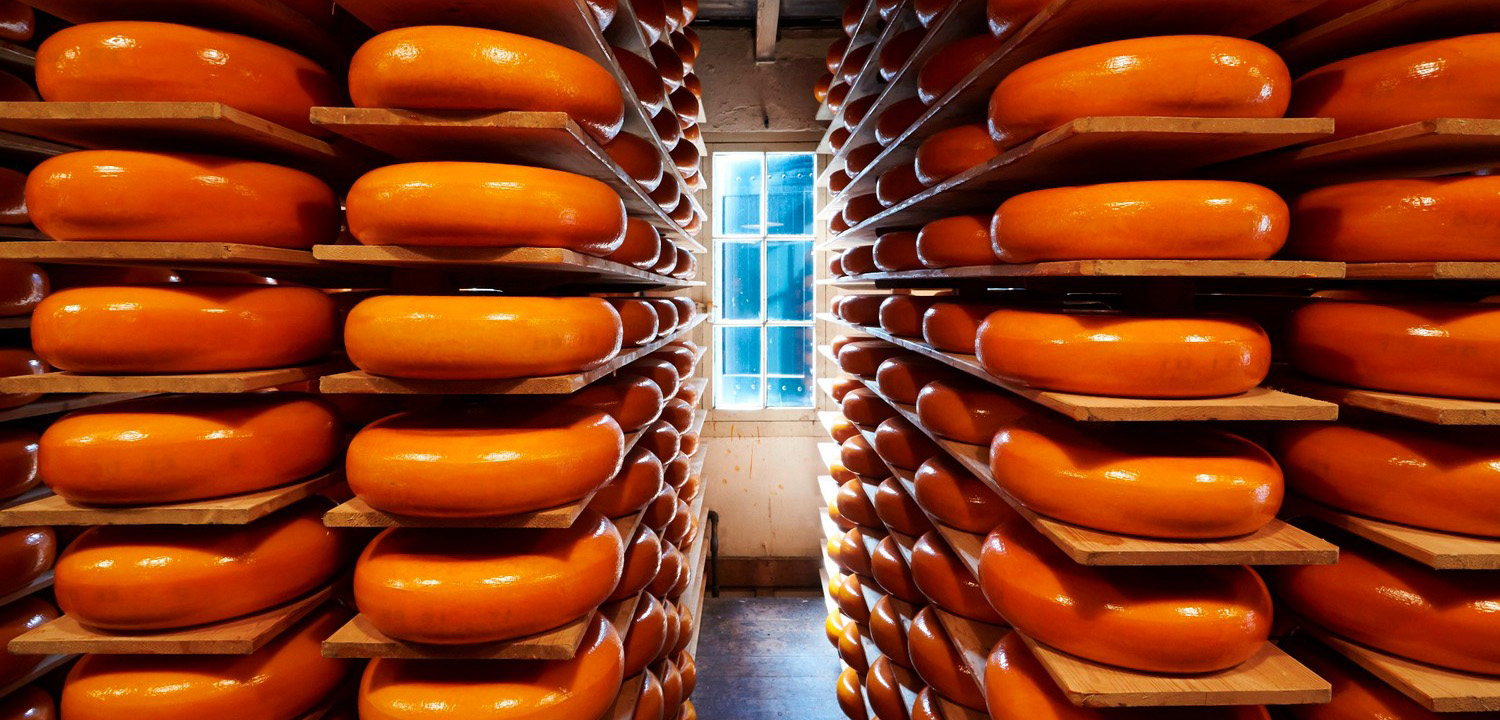 Cheese

supplier
The passion of a cheese supplier
Cheese: we just can't get enough of this wonderful product. We are passionate about our product and experts in cheese. As a supplier for cheese specialty shops, market stalls and independent sellers, we offer a complete range of cheese.
It all started 40 years ago with the passion of Kees Romijn. At that time, Kees was working at a dairy plant. After acquiring the necessary know-how, Kees decided to start his own wholesale cheese business. He got in his car and drove to the local farmers where he bought his cheese. He then sold this cheese to the local cheese specialty shops. And voila, a new Dutch wholesale cheese company was born!
In the early years, his basement functioned as an aging store. But in no time at all, more space was needed. He found a small warehouse in Kerkdriel. The wholesale continued to grow. Today, his aging store has the capacity to hold 250,000 cheeses. Over the past four decades, Remijn Wholesale Cheese grew from a small cheese trader into a full-fledged professional cheese wholesale company.
Top Quality Cheese Wholesale Holland
Quality is our number one priority. We make no concessions when it comes to quality. The climate at our aging store has been optimised for the ripening of cheese. Our expert inspector regularly evaluates the quality of the cheeses. Our cheeses are also cleaned and turned every week. This is how we can guarantee the finest quality cheeses.
Our rigorous selection process and hard work has brought results. Over the past few years, our cheeses have won numerous national and international awards. Our cheeses were honoured on numerous occasions at the annual Cum Laude inspections and the International Cheese Awards.
"Stompetoren" cheese
We are very proud of our house brand: Stompetoren. This cheese is made with freshly pasteurised milk. The CONO cheesemakers process fresh milk into a delicious cheese. Even though these cheesemakers have all the latest technologies available, the curd is still stirred by hand. This keeps an age-old tradition alive at this innovative cheese plant.
The Stompetoren name can be traced back to the village of Stompetoren. In this small village in the polders of North Holland our cows graze and the CONO cheese is made. Stompetoren cheese is renowned for its full flavour and rich creaminess
A selection of our
cheeses
As a cheese supplier, we specialise in Dutch (half) hard cheeses. We offer a complete range. Ranging from "boerenkaas" (farm cheese) made by traditional farms to cheeses produced by the major cheesemakers. The majority of our assortment consists of cheeses made with cow's milk. In addition, we also sell goat cheese, sheep cheese, buffalo cheese and Jersey cheese. In our expansive assortment you will also find various specialty herbal cheeses, vegetarian cheeses and organic cheeses.
More than just
cheese supplier
As a cheese supplier, we are more than happy to make the extra effort for you. With much passion and great pleasure we are happy to share our expertise in cheese. We give advice on store displays, provide customised training and develop ready-made promotional packages. In short, we are much than a cheese supplier; we are your dedicated expert partner in cheese.