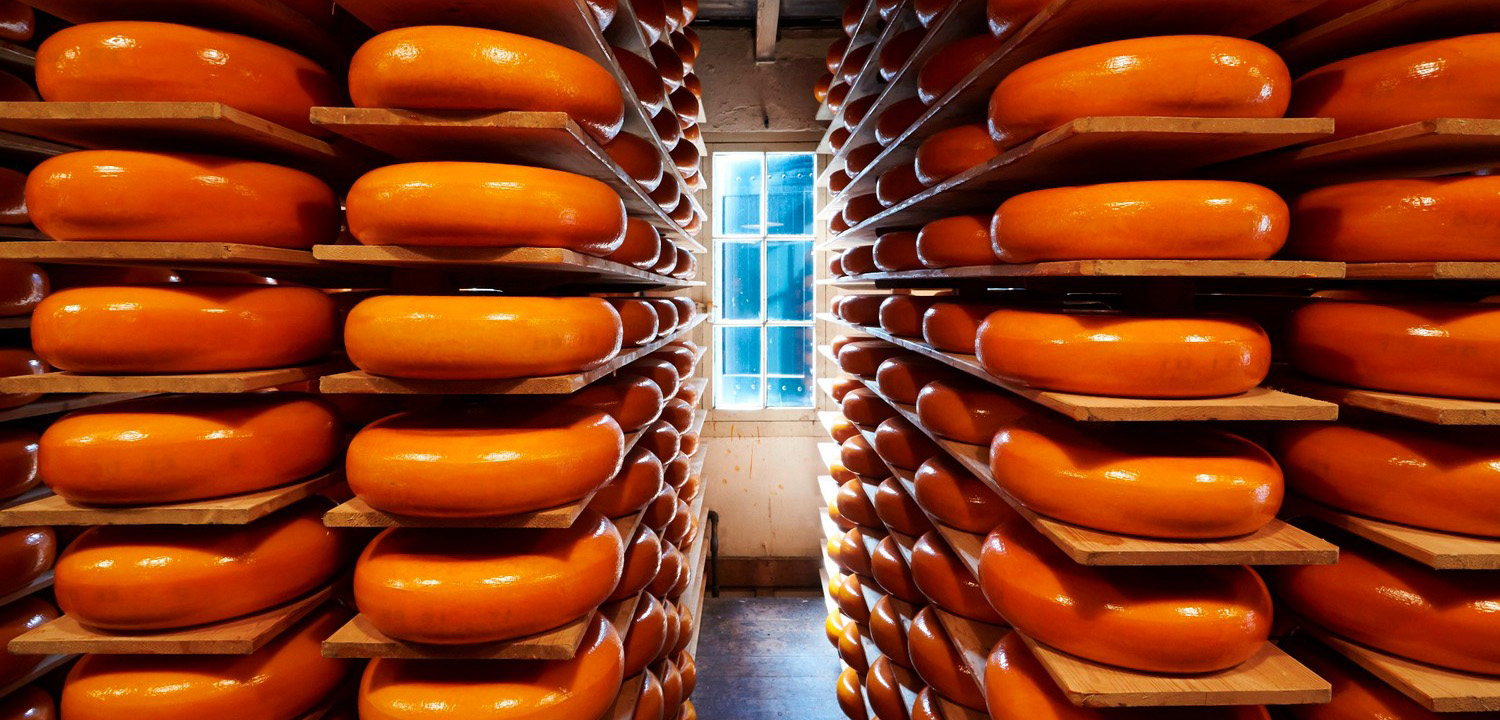 Cheese

Wholesale

We are a Dutch cheese wholesale company that is passionate about its product and an expert in cheese. Our mission is to introduce as many people as possible to the delicious taste of our cheeses. We are happy to make the extra effort in order to successfully complete our mission.
Small-scale cheese wholesale Netherlands
It all started 45 years ago. Kees Remijn had a dream: to introduce as many people as possible to the delicious taste of Dutch cheese. With his passion for cheese, his background as a son of a farmer, a degree in food technology and experience as a manager of a dairy plant, Kees was ideally suited to launch Remijn Cheese. Kees bought cheeses from local farmers and sold it to local cheese shops, and his Dutch cheese wholesale company was born.
Professional wholesale cheese Holland
Today, the small cheese trader has grown to become a professional wholesaler of Dutch cheese. Our aging store in Kerkdriel has a capacity to hold 250,000 cheeses. We recently optimised the climate in the aging store to accommodate the aging of cheese. Thanks to the relatively high temperature and high humidity, the cheeses develop their own unique, characteristic flavour.
Quality
We aim to supply only the finest quality cheese, anything less just won't do. That is why our cheeses are turned and cleaned every week. Throughout the aging process, our expert cheese inspector regularly assesses the cheeses. With the critical eye of a craftsman, our inspector evaluates each and every cheese. This is standard procedure if you want to be guarantee the highest-quality cheese wholesale.
Under the watchful eye of the inspector, our cheese has all the time it requires to ensure that it properly matures. Our over-age cheeses have actually ripened for 12 months. The aged cheese has ripened for 24 months and the matured, crumble cheese has ripened on the shelf for at least 36 months. All of these cheeses have time to ripen under optimal conditions. Naturally ripened Dutch cheese, nothing tastes better.
A selection of our
wholesale cheeses
We offer a complete range of cheeses for professional Dutch cheese wholesale companies and sellers. In our aging store, you will find all kinds of "boerenkaas" (farm cheese) and specialty cheeses. Ranging from little one-pound cheeses to enormous jumbo-sized cheeses weighing 65 kg. Our vast assortment includes among others, CONO cheese, HB cheese, "boerenkaas" or farm cheese, herb cheese and various organic cheeses. We also sell goat cheese and sheep cheese. And, if you are looking for a cheese with a special bite, why not try our buffalo or Jersey cheese!
Our
clients
We are passionate about our product and we would like nothing more than to introduce as many people as possible to the best Dutch cheeses on the market. Craftsmanship, expertise and personal advice are the cornerstones of our service. That is why we sell our cheese through specialised cheese vendors: cheese specialty shops, market stalls and independent sellers.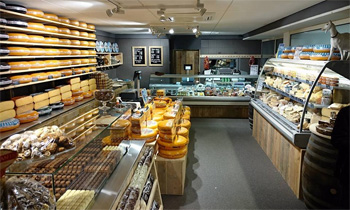 Cheese specialty shops
We not only supply the best wholesale cheese, but we are also happy to share our knowledge and expertise. We can help you with your store layout, we give advice and can offer sales support in the form of folders, posters and digital files for in-store monitors. Are you looking for a special promotion for a street fair? Or perhaps you are celebrating an anniversary with your customers? We are more than happy to help!
Markets
The outdoor markets in the Netherlands are a unique phenomenon. Every town has its own traditions, customs and taste. What sells like hot cakes in one region may hardly be sold at all in another. Thanks to our years of experience, we know exactly which cheeses sell well where. If you would more advice in this area, we are here to help!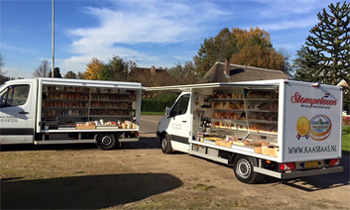 Independent sellers
Some folks enjoy the luxury of having "cheese delivered to your door". In various locations throughout the country, independent sellers will go to door-to-door. The cheese is literally delivered to your doorstep. This combines the convenience of a web shop and the service of a cheese specialty shop. This is the special service that independent sellers can provide. For this specialised trade, you need to a reliable supplier. We are more than happy to be the partner to help you provide this service.