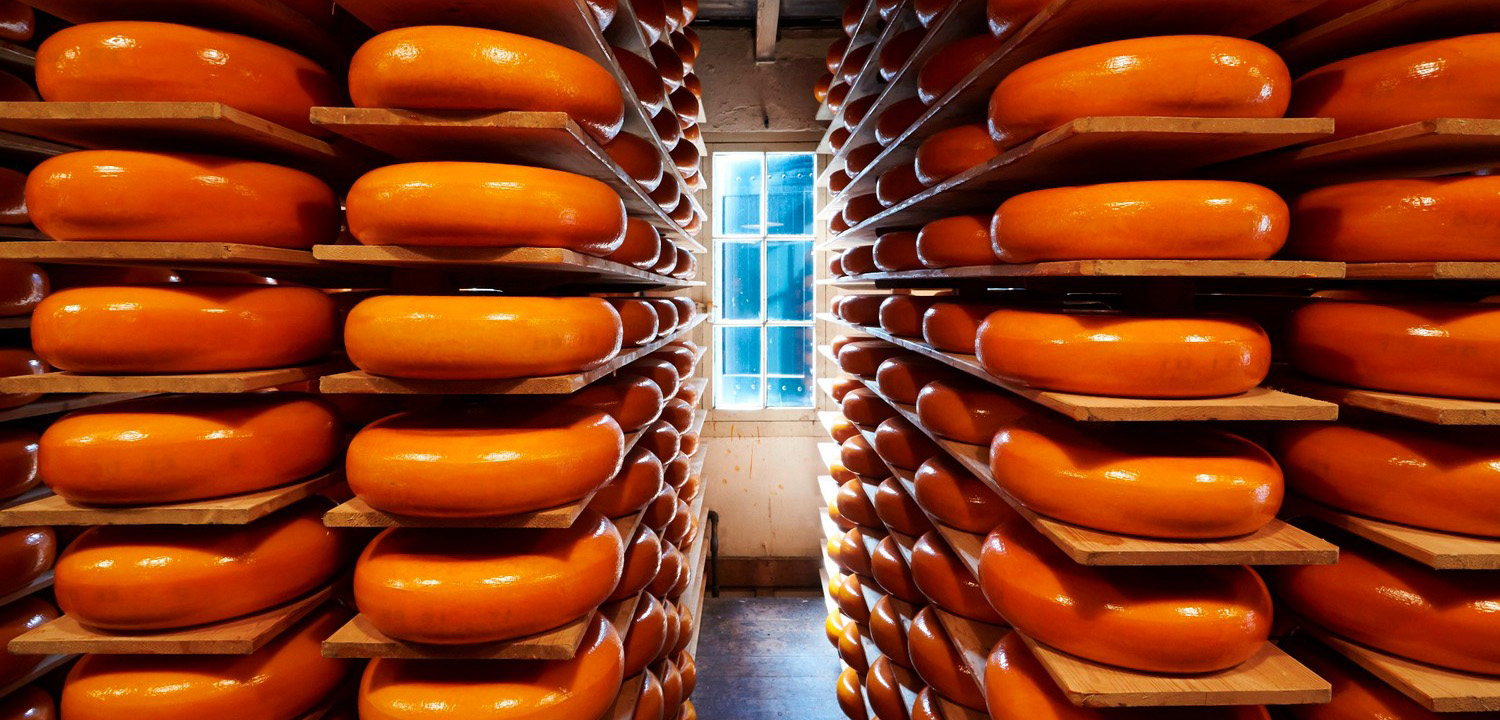 Wholesale Cheese
Netherlands
From local cheese trader to cheese wholesale
Remijn Cheese Wholesale is a company that specialises in the maturation and distribution of Dutch cheeses. More than 40 years ago, Kees Remijn started out as a small cheese trader. He visited local farmers and purchased the best cheeses and then sold these to the local cheese specialty shops. This was how Remijn the Dutch Cheese Wholesale began.
Although the official name was Remijn Cheese Trade from the beginning, the company was often referred to as Remijn Cheese Wholesale in the early days. Kees can appreciate this moniker. Remijn is a cheese wholesaler in Holland after all, so it makes sense. Today, Remijn Cheese Wholesale is a well-known name no longer confused with any other. Over the past four decades, the company has grown to become a professional cheese wholesale company and supplier to Dutch cheese specialty shops. The aging store has the capacity to hold 250,000 cheeses with a climate optimised for the aging of cheese. Kees Remijn is still active at the company, but prefers to stay in the background. The next generation has now been given the reigns. The core values of quality, reliability and personal contact that Kees instilled are still the pillars of the company today.
Stompetoren cheese at the Cheese wholesale in Holland
On the market, we are renowned for our exclusive house brand, the "Stompetoren cheese". Stompetoren cheese is made of freshly pasteurised milk. This milk is processed into cheese at the CONCO cheese plant. The CONO cheesemakers are known for being the "greenest" cheesemakers in the world. CONO is a highly progressive company that combines innovative techniques and age-old traditions. This is how CONO manages to make the best tasting cheese for our cheese wholesale company in the Netherlands.
In addition to Stompetoren cheese, we also sell various other kinds of cheese, including "boerenkaas" (farm cheese), herbal cheese and our specialities that included Bunker cheese, Friesland "Nagelkaas" and Royal Blue cheese.
Quality cheese wholesale in the Netherlands
Quality is our number one priority. We make no concessions when it comes to quality. We work together with a select group of farmers who only make cheese for us. This is how we can guarantee a unique and consistent quality product. All of our farmers are located in North Holland. Most of them have traditional family companies that have been passed on from generation to generation. They make cheese with passion, craftsmanship and the freshest, finest milk. Their years of experience and unique recipes have also been passed on from one generation to the next. And the result? Award-winning cheeses!
Over the past few years, our farmers have produced many award-winning cheeses. At the annual Cum Laude inspections they won gold, silver and bronze medals on numerous occasions.
A selection of our
wholesale cheeses
We offer a complete range of cheeses for professional Dutch cheese wholesale companies and sellers. In our aging store, you will find all kinds of "boerenkaas" (farm cheese) and specialty cheeses. Ranging from little one-pound cheeses to enormous jumbo-sized cheeses weighing 65 kg. Our vast assortment includes among others, CONO cheese, HB cheese, "boerenkaas" or farm cheese, herb cheese and various organic cheeses. We also sell goat cheese and sheep cheese. And, if you are looking for a cheese with a special bite, why not try our buffalo or Jersey cheese!
More than just
Dutch cheese

wholesale

What can we offer you as a cheese wholesale company? The highest quality Dutch cheese and a dedicated team that is ready to help you with whatever you need. We are not your ordinary cheese wholesale company. We do much more than supply cheese. As a full-service Dutch cheese wholesale company, we are a full-fledged partner to all of our clients. If you need advice on store displays, special promotions or extra turnover or perhaps you are interested in our store support in the form of folders, posters and recipes? We are more than happy to help you in any way we can. We want to help you to get the most out of your cheese specialty shop, market stall or independent (door-to-door) sales.